Marian's Notes: Due to circumstances beyond our control, we are swapping contests. Instead of our Win a LunchBox stuffed with school supplies and goodies, our next contest will be to win tickets to Gilroy Gardens. The contest begins next week. I will send an email.
Lots of summer fun notes this week so fewer events. But check the Facebook page and Twitter stream for more family fun this week.
Featured & Favorite Events

Summer Bowling Ends Sept 1, 2014
Summer Bowling for Kids in the San Francisco Bay Area
Don't put away your bowling shoes yet! Summer bowling for many centers does not end until Monday.
Enjoy an hour or two with this great family activity. Turn it into a math game - have your child do the scoring.
If you didn't sign up for a summer bowling program, you can still get a deal with these Groupons.
Military Go Free this weekend!
Gilroy Gardens - Free Admission for Military this weekend.
Active Duty Military personnel get free admission to the park this weekend when presenting a Military ID-one complimentary admission per ID. Did you know that we have 7 different discounts for Gilroy Gardens on our Gilroy Gardens page? Check it out and tell us - what attraction/destination you would like us to do next!
Summer Reading Programs for Kids - Barnes and Noble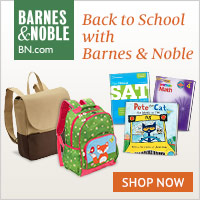 B&N
Summer Reading
Just a reminder that the summer reading program for Barnes and Noble ends on Tuesday. You can use the same books that your child read for the library or the Pottery Barn program. You can find a list of the free books being offered this year on the pdf form. But my favorite is the National Geographic Dinosaurs!
Program rules: Read 8 books get one free from selected list. Through age 12. Program runs through September 2, 2014.

Groupon Deals
Groupon Deals Plus Save 10% off Select Deals with code LABOR10
If you snapped up this great deal spend $10 get $20 (which we turned into 2 pairs of jeans of at Sears), here is a reminder that most Groupons will expire by Sept 6th. If you don't use the Groupon for $20 by the expiration date, you can still use it for the $10 purchase price.
Other good Groupon deals this week: JC Penny Portrait package $25. Use the Groupon for Christmas pictures, Senior portraits, Halloween pictures and family visits. Disney's Frozen Wall Friends $29. These oversized wall-mounted night lights include a remote control to adjust the brightness and talk. 52-Piece Fun Foam Blocks Set $12.99. Stack them like regular blocks or put them in the tub to use during bath time. Photo Booth Rentals Great idea for fall fund raisers. Many of the deals are for as little as 2 hours and as many as 4.
Season Pass Specials - Buy Now GET 2014 and 2015
Gilroy Gardens, Raging Waters and Six Flags have all begun their 2015 season pass sales. Since we still have 2 months left for most 2014 seasons this is a good time to visit and to buy.
Gilroy Gardens includes admission to 2014 Holiday Lights.
Raging Waters is open weekends until September 14.
Six Flag Discovery Kingdom is having a sale this weekend. You get the rest of 2014 which includes Halloween and Holiday in the Park, an additional discount is you purchase 4 or more at a time, free parking, and an upgrade to their Gold Level. This sale expires Sept 1, 2014.
VISIT OUR SPONSORS - CLICK ON THE LINKS, THANKS.

Highlight for the Weekend - Fairs & Festivals & Special Events
Scottish Games at Alameda County Fairgrounds 8/30 - 8/31 $0-$21
See ancient battles of strength (ever wondered what a caber is?) or enjoy traditional dance, arts, music and bagpipes!
Free But Reservation Required - Get Your Space Now!

Like Celebrate-Family.com? Please visit our sponsor sites. Thanks.
Discounts, Coupons & Special Savings This Week

Affiliate Marketing Disclaimer: Some of the links on this blog/web site, either through images, text, or audio are affiliate marketing links, and if you purchase products through these links then I get paid a commission!!! The amount of commission varies from product to product. Please support Celebrate-Family.com by visiting our Sponsor sites/events.